Daisuke Kawahara
   It is common to look at Olivier Assayas' 1996 film Irma Vep as a critical reflection on the globalization of cultural labor, the transformation of French cinema in a post-national order, and the aesthetics of transnational cinema. "The mediations and reversals in Irma Vep anticipate many of the stakes put forward in the recent debates about film in the global market," observes Tom Conley (424). Noting that the film is "a movie that could be taking place almost anywhere in the world," Jonathan Rosenbaum similarly points out that "the behavior and attitudes in Irma Vep have more to do with 1996 filmmaking in general and what this says about the world than they do with French filmmaking at any rate and what this says about 'the French.'" While I agree with the view that Assayas offers an ironic and self-reflexive play on the globalized state of filmmaking in Irma Vep, it is misleading to erect the false binary of the commentary on globalization and the critique of French national cinema. Assayas' film, as I will demonstrate, not only points to the dissolution of national cinema, but to the troubled politics of representation in French cinema which are both concrete manifestations of the global condition of filmmaking. In this essay, I will examine Irma Vep to see how the issue of cultural (racial and gender, in particular) identities was foregrounded in French cinema of the 1990s as the neoliberal transformation of the film industry was underway. In Irma Vep, as I will argue, Assayas corresponds to the globalization and decentralization of French filmmaking through reworking on the canonical work of French silent cinema Le Vampire (Louise Feuillade, 1915-16), the canonical work of French silent cinema, and working with Maggie Chueng, a Hong Kong born Chinese actress who gained international fame with her cinematic performance in the 1990s. Casting Cheung as Irma Vep, a vamp character played by the French actress Musidora in Feuillade's work, and self-consciously engaging with discourses on racial minorities in contemporary French society, Assayas makes use of her (ambiguous) Chinese-ness to revive the uncanny nature of the character in the present time and to highlight the anxieties surrounding the crisis of national identity of French cinema. To demonstrate this, I will examine how Le Vampires handles Musidora's body visually and how that body works with or against its narrative context, and how Assayas refashions Feuillade's original work, taking an alternative approach to the representation of female body. Because the trans-cultural and trans-national aspects in the narrative in Irma Vep should in part register as a response to changes within the French film industry, I will use two different approaches: critical on the one hand, and industrial, economic, and social, on the other. To demonstrate a transformation of the concept of French national cinema, I will see with historical precision how trans-national filmmaking spread within the movie industry since the 1990s and how Assayas and Maggie Cheung as a transnational filmmaker and actress emerged from the global context of filmmaking.
   To understand the historical, industrial, and economical background of Irma Vep, an overview of the contemporary French movie industry is necessary. Many scholars assess the condition of French cinema since the 1980s as a state of crisis.[1] Despite the rather high market share of French film in the international movie market and the radical restructuring of the industry conducted by the Socialist government, the French movie industry began to meet serious financial crisis and functional failure in the early 1980s. The symptoms of the crisis ranges from the declining audience and domestic productions to the death of auteur cinema and the emergence of new media technologies (VHS, DVD, satellite and cable TV, etc) coupled with new ways of seeing cinema. The crisis is also highlighted by the competition the French industry has faced from foreign film industries. According to a study by Sue Harris, along with the growing popularity of Hollywood blockbuster films, the US-style multiplex, which did not exist in France until 1992, rapidly spread across the country and enticed French, particularly the young, audiences to experience film culture in ways that "break with previous French modes of consumption" (261). The crisis affected, to a great degree, the French film industry and its ability to remain financially viable in the domestic market and to compete with imported films, mainly from Hollywood. [2]The economic revitalization of so called "New Hollywood" and the major studios' growing dependence on the international markets to recoup the costs of producing big budget blockbuster films increased the percentage of American films shown in the domestic market up to 80 per cent. [3]
   While some might argue that Hollywood's globalist drive for dominance is nothing new, it is crucial here to see how French filmmaking around this period was being swallowed, in an unprecedented manner, by the vortex of globalization and neoliberal policies. After the second presidential term of François Mitterand, which had begun in a mood of optimism and ended in a depressed climate of ideological confusion and political scandal, the World Trade Organization (WTO) replaced the General Agreement on Tariffs and Trade (GATT) in 1995, thereby implementing a crucial revision to the old trade convention which was instituted right after World War II with the aim of fostering economic growth through trade liberalization. In the late GATT period of the mid 1990s, the French government introduced the concept of "cultural exception," under which theatrical filmmaking fell into the category of "cultural services," which refer to non-material activities to satisfy cultural needs, and was differentiated and excluded from "cultural goods," which refer to material commodities for commercial trade. This allowed the government to adopt protectionist trade policies and to maintain quotas on theatrical films, which functioned to a certain extent to protect French cinema from the wave of the U.S.-led globalization and to encourage state-supported filmmaking. However, along with the transition to the WTO, as Toby Miller and the other co-authors of Global Hollywood 2 point out, "[t]hese struggles have not prevented Hollywood from peddling its wares internationally" (87). As the authors demonstrate in their detailed analysis of Hollywood and its economic transformation since the 1990s, "As audiovisual services are absorbed into concepts such as electronic commerce, information and entertainment, the distinction between goods and services begins to blur" (89). To cope with the serious industrial crises, the movie industry took various economic measures which, in retrospect, perfectly fit into the neoliberal mode of governance: They called for tax incentives for movie investment; encouraged partnerships with foreign businesses (for example, a co-distribution agreement was made between Gaumont and Buena Vista International in 1993, and between UGC and Twenty Century Fox in 1995); and increased the number of transnational co-productions of French blockbusters as well as English-language films.[4] It would be fair to say that all of these examples inevitably undermined and put in question the specificity of national cinema.
   Also, it is interesting to note that international film festivals played an important role for the new New Wave of French filmmaking as well as for many other new waves in Asia, such as the fifth and sixth generation Chinese filmmaking after the Cultural Revolution, New Korean Cinema since the 1990s, the post-martial law Taiwan new wave, and the post-revolutionary new Iranian cinema, all of which rose up along with the globalization of the film market and cultural labour. [5]"In part, the astonishing growth of such events [film festivals] in the 1980s and beyond may be viewed as the logical result of the global economy's need to produce a large reservoir of other locations in other cities so as to continually rejuvenate the festival circuit through competition and cooperation," says Julian Stringer (138). The film industries around the globe not only increasingly recognized the importance of already-established film festivals (such as Canne, Venice, and Berlin) but also reorganized their local festivals (such as the Golden Horse Awards in Taiwan, the government-led film festival in which government representatives used to judge films and thus failed to achieve success) into private-sector driven festivals, clearly aiming to distribute their films through the global film circuit and to draw attention from foreign fund sources. In the quasi-cosmopolitan film market which in fact is powerfully backed up by neoliberal economic policies, the centrality of French cinema has been destabilized and undermined. [6]Jean-Michel Frodon points out:
One of the effects of this evolution is the breaking of the alliance between the interests of the French industrialists of the cinema and the aesthetic and ethical stakes of a cultural exceptionalism. If the sector is no longer structured by nations, the entrepreneurs of cinema have no reason to not become a participant in the process of globalization, and that's just what they are in the process of doing,(the naturalization of Jeunet's Un long dimanche de fiancailles is but the most recent and blatant example). Those in charge politically find themselves obliged to maintain the fiction, which is becoming more and more difficult, of a joint defense of material and ideal interests henceforth diverging.
   It is such a historical, economic, and political context from which the French new New Wave arose, and Olivier Assayas and Maggie Cheung established themselves in the global film market respectively as an international auteur and a transnational star. On one hand, it is true that the new wave began as a local cinematic movement and as a legitimate successor of the legendary French new wave. Assayas began his career as a film critic for Cahiers du Cinema in 1979, locating him in the continuity and trajectory of the traditions of French New Wave cinema. On the other hand, however, the movement tended to be more and more de-centralized and transnational. As a powerhouse of film criticism, Cahiers du Cinema, has traditionally inspired and encouraged young directors to carry out stylistic, thematic, and methodological innovations, it was often outside France that contemporary filmmakers, and above all Assayas, found their funding resources, audience, and critical acclaim. As the government shifted from the traditional social democratic solutions to the neo-liberalist ones, the new type of filmmaking was designed to encourage filmmakers and producers to rely less on the state for financial support to promote productive relationship with the private, and most often, foreign sectors. In the globalized condition of filmmaking in which, Frodon says, "[t]he majority of Kiarostami's audience is not in Iran, nor is Edward Young's in Taiwan, nor Gus van Sant's in the United States," such business practices facilitated the process of French filmmakers gradually becoming cultural laborers of international art cinema, their works incorporated into the cultural economy of the global art market, eventually causing the almost total detachment of their work from home use.
   Let us further examine the cross-cultural and decentralized state of the French "new New Wave" is worth examining further. While the notion of "new wave" is usually subsumed under the discussion of a movement within single school or location (like the Fifth Generation in China coming from the Beijing Film Academy), film studio (like Shochiku in Japanese New Wave), journal (like French New Wave filmmakers in Cahiers du Cinema), genre (like blaxploitation in the 1970s), and film style (like all-anti-Hollywood filmmaking in Danish Dogme 95), French new New Wave films and filmmakers do not necessarily fit into either of such unified origins. Also, it is important to note that, despite the national allegory we find in some works, the new New Wave is often dismissed by local distributors, exhibitors, and audiences, and has grown outside the country.
   Released in 1996, one year after the introduction of the WTO, Irma Vep is at once a product and a playful critique of the new economic conditions surrounding the globalized condition of contemporary French filmmaking. First, it is important to recognize that thisis a meta-film about the making of a film. In the narrative, the production crew attempts to remake Le Vampires (1915-16), a silent classical serial by Louise Feiullade, for television. They hire Maggie Cheung (playing herself "Maggie") , a Hong Kong born Chinese actress, to play the role of Irma Vep, a vamp character which, in Feiullade's original work, was played by Musidora, the legendary French actress of the silent era. The story begins with "Maggie" arriving at the production office in Paris. The sense of her cultural isolation is emphasized from the beginning of the film, as office workers hurry here and there, speaking in French though she only understands English. Shooting lags behind schedule as Vidal begins to suffer from a nervous breakdown. When Vidal's family packs him off to a sanitarium to recover, the production hires a new director, José Murano. Murano has a different, nationalistic, and even racist vision of Les Vampires which does not include an Asian actress for the role of Irma Vep ("Irma Vep is not Fu Manchu!")[7] He demands that "une Chinoise" should not be cast in the legendary iconic role of Irma Vep and that Maggie should be replaced. When the remaining crew tries to let Maggie know that she is fired, she has already left for New York and Los Angeles to have meetings with Ridley Scott and others for future projects.
   In order to update the image of Irma Vep for the global era, Assayas mobilizes Cheung's star image as a transnational Chinese actress which she represented through her career, but particularly through playing herself as an actress reenacting a silent film icon. Irma Vep is not the first film in which Maggie Cheung plays herself. The notable precedent is Stanley Kwan's 1992 film Center Stage. Though they inhabit totally different genres, French thriller and Chinese melodrama, it is interesting to see that, in both of these films, Irma Vep and Center Stage, "the figure of Maggie Cheung provides a figurative locus for the anxieties" (Rojas) revolving around the female bodies of the legendary actresses of the silent period. Center Stage is a docudrama about 1920s and 30s Chinese silent film actress Ruan Lingyu. The film combines fact and fiction to narrate Ruan's all-too-brief life. The film begins by blending action shots while simultaneously displaying black and white pictures of her on various set locations during the filming of her movies. Next, a short interview between Maggie Cheung and director Stanley Kwan follows the actress's introduction in the film. Kwan uses a very interesting technique in making this particular film, one in which he incorporates still photos of Ruan, new footage of Cheung portraying Ruan, and then contrasts his modern footage to the vintage of the original silent films starring Ruan. He also uses a number of these flashbacks throughout the film and also features interviews of the 1930's actors, directors and filmmakers who worked closely with Ruan during her brief but highly successful career.
   Center Stage illustrates the progress of Ruan's career and influential and controversial roles she created, culminating in the turmoil caused by her role in New Woman (Cai Chusheng, 1935). The film opens with Cheung's reenactment of Ruan's early career when she began acting at the age of 16 for the Lianhua film company in 1929. Ruan won instant success, winning major roles and becoming a huge star overnight. The film is also rich in the details of Ruan's colorful personal life. Paralleling Ruan Lingyu's complex love life with her husband and her lover, she also starts to play more controversial roles in her films. Throughout the film we see Kwan and Cheung tackle interviewing Ruan's former co-workers in a joint effort to challenge the notorious media claims related to Ruan's personal life. Toward the end of the film, we are introduced to Ruan Lingyu's final films, including the highly controversial movies The Goddess and The New Woman. Maggie Cheung's portrayal of Ruan focuses on her struggle to get control of her life while trying to deal with the overwhelming pressure from the relentless media and also from the patriarchal society which had a negative reaction against the rise of "new woman" in 1930s Chinese society. As Kristine Harris points out in her article, "The New Woman Incident: Cinema, Scandal, and Spectacle in 1935 Shanghai," the terms "new woman" or "modern woman" in China at the time "more often carried additional negative associations of superficial Westernization, hedonism, even avarice" (294). The film ends with very imaginative and poignant scenes of Ruan's funeral after her suicide.
   In her provocative study of Louis Feuillade's serials from the 1910s to the 20s, Vicki Callahan argues that, in Feuillade's work, there are what she calls the "zones of anxiety" where "a progressive revelation of the threat posed by the figure of the criminal" (14) is mapped out in a shifting but consistent manner. Seeing Musidora as "an ongoing figure of uncertainty, the untamed poetic body" (5) as well as the embodiment of the "threat of the shifting, unstable subject" (11), Callahan maintains that the figure of woman functions as one of the recursive and uncanny elements which inter-textually move though Feuillade's crime serials in ways that tend to disturb and destabilize meaning.
   Along with a huge population flow from suburban areas to the center city and with ever shrinking boundaries between the dangerous outer limits of the suburbs and the secure center of the city in the late 19th century Paris, fear and concerns regarding the ever-increasing urban crime rate were raised among the public. Also, at the same time, as a result of the modern transformation in French society and the spread of industrialization throughout the nation, the emergence of the "New Woman," the cultural symbol of female independence and achievement in the Victorian era, became one of the most immediate social concerns. The physical presence of new women in urban space became the focus of public and cinematic attention, which, according to Mary Louise Roberts, clearly underlines a socio-cultural anxiety surrounding the female body and changing gender roles in French society at the turn of the 20th century.
   Criminality and femininity are, thus, inevitably tied together in the 19th century French visual culture, particularly in Feuillade's Les Vampire. Callahan points out that "always at the center of anxiety is the figure of woman, making this Musidora's as much as Feuillade's story" (43). Fetish objects such as Irma's now-famous black latex bodysuit functioned to "establish a physical place for the anxiety" (90). Through his effective use of color, lighting, and costume, Feuillade in Le Vampires aims to show Irma Vep as visual spectacle. He frequently captures Musidora in a long and full shot, aiming to show her whole figure in a silk bodysuit which emphasizes her body line. In the scene of Episode Six in which Irma first appears in a hall in her bodysuit, for example, her body in black makes a strong color contrast with the white interior objects (such as the doors and walls) and with the clearly-lighted space. As she moves across the deep-focused space, the camera shows the outline of her body clearly and thus attracts the viewer's attention. (see Fig.1) This contrast in color continues as she opens the door to enter the room. The camera is placed inside the dark room, showing Musidora sneaking into the room. The door slowly opens while the light entering from the hall produces a small frame-within-a-frame on the screen. (see Fig.2) The white frame in the dark room, again, silhouettes the outline of her body, adding a stronger sense of abstraction.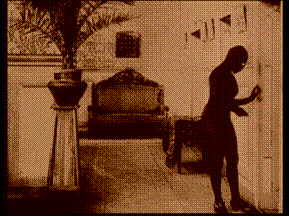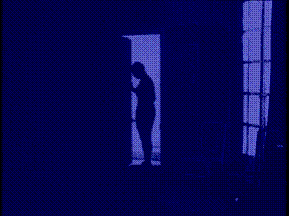 Fig.1             Fig.2
   On one hand, the representation of Irma Vep as fetish object, of course, underlines Laura Mulvey's famous gaze theory. Mulvey in her "Visual Pleasure and Narrative Cinema" discusses the connection between the voyeuristic desire of male observer on the one hand and the female body as spectacle but also a threat of castration that the classical film techniques such as shot-counter shot and close-up establish in Classical Hollywood Cinema. The rendering of women into spectacle is a formula that cinema adopted early in its history in order to invite a spectator to assume the subject position of an observer---- mainly that of a male----through a secondary identification. In Le Vampires, the audience safely watches her body in the darkness of the movie theater (and through the darkness of the room in the scene.) Musidora's position fits the levels proposed by Mulvey; (1) as an erotic object of a character or characters in the story and (2) as an erotic object for the spectator within the auditorium (Mulvey 488).
   It is not my intention, however, to categorize Le Vampire and Feuillade's other crime serials either into classical cinema or into early cinema, or as either the cinema of voyeurism or the cinema of attraction. Callahan builds up her original view of early cinema, the "cinema of uncertainty," by criticizing the works of early film historians which, she maintains, draw a clear historical divide between the exhibitionism (attractions) and voyeurism (narrative integration) in early cinema (15-17). I would agree with her that the division between the two seemingly oppositional categories is much more ambiguous than many film scholars think. As Tom Gunning points out, the prototype of POV in cinema can be seen as early as 1900s and, even before the dawn of the classical period, film narrative gained the rhetoric to represent moral contrasts on its own, which he calls "film's self-referential structure" (Gunning 150) Also, pointing out the introduction of the coordination between the subject observer and the object of the subject's gaze in early cinema on the eve of classical period, Hiroshi Komatsu argues that such a transition to self-referentiality also altered the state of meaning of a shot or shots from an undetermined state in the early cinema to an integrated state in the classical cinema. And it would be important to add that, such a transformation of film technique both in the U.S. at the turn of the century and fin-de-siècle France was motivated not only by a evolutionary progression of film aesthetics, but by a socio-cultural transformation in these countries; primarily, anxieties about the maintenance of social and sexual order in the face of modernization. Specifically, these anxieties are about the increase in immigration and crime, and also about the re-formation of public/male and private/female spaces.
   Thus, Musidora as Irma Vep does not always fit into Mulvey's formation. Rather, the figure of Irma Vep goes beyond it. It is true that she is placed in a masochistic position, becomes an object of gaze, and offers erotic attraction to the audience. In her picturesque or sculpturesque images, on magazines or advertisements, or lying on a chaise lounge and posing like Venus de Milo, some tend to argue, such images function to crystallize her star image as an erotic icon (like Vidal in Irma Vep does) (see Fig.3-4). But it is important and interesting to note that, at the same time, she and her body are not completely visible. Her body, from head to toe, is covered by black and shadow-like latex, avoiding exposure of her skin except her face. The bodysuit functions both to expose and to conceal her body, and adds more uncertainty to her star image. [8]Moving ambiguously between specific or particular body and abstract or generalized female body, Musidora as Irma Vep refuses to fall into any category of female characterization in fiction and thus leaves us something indefinable, frightening, and uncanny.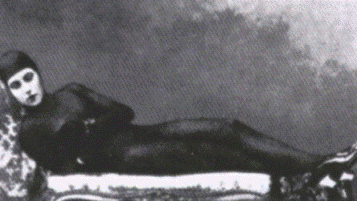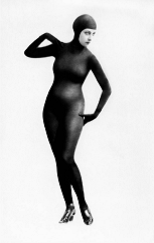 Fig.3              Fig.4
   Here, I would join the ranks of those who borrow Freud's definition of the uncanny as something familiar and ancient—something established in the mind and which has become alienated from it only through the process of repression. Moreover, Freud states that it is the repetition and recurrence of that which "ought to have remained hidden but has and come to light" that makes the "something familiar" now truly "uncanny" and thus, frightening. And my point is that the uncanny produced in the silent period was revived and brought to the fore of French cinema in the 1990s after being suppressed for decades over the classical era of French cinema. [9]In portraying the character of Irma Vep in a contemporary fashion, Assayas, as a new New Wave filmmaker who coincidently appeared on the scene of French filmmaking in the 1990s, cast Maggie Cheung as Irma Vep not only to tackle this "other-ness" of sexual difference but also to add a new perspective to it; that is, the perspective of race. Given that the image of Irma Vep and Musidora are highly romanticized, made nostalgic, and thus already tamed by the French (male) characters in Irma Vep, it would be safe to say that it is Cheung's Chinese-ness that makes the "return" of Irma Vep uncanny.
   It would be reasonable to argue that, in Irma Vep, the internal surburb/urban distinction evident in the gaze towards female criminals in Les Vampires is rather clearly displaced onto national/foreign formation which is a way of seeing and recording the cultures of racial "others." Throughout the 1980s and 1990s, along with and against the dominant discourses on migrants as social others, the issue of representation of race has become one of the central traits of contemporary French cinema (particularly in such genres as the cinéma beur and the cinema de banlieue), to the extent of remapping ethnic minorities and their cultural identities in the cinematic representation. The increasing number of immigrants in contemporary French society further enforced racial distinctions and produced social anxieties over racial others.
   The presence of Maggie Cheung, a female Chinese actress, in Irma Vep inevitably incites debate and reflection on the social others in French society and also on the white-centered history of French cinema.[10] Cheung was born in Hong Kong, but moved to Kent in England at the age of six as her parents emigrated there. After being educated in England, at seventeen, she went back to Hong Kong to start her career as an actress. To produce anxieties and even fear over the presence of Cheung (as Maggie) in the film, Assayas shows the uncertainty of Cheung's background instead of fixing her Chinese-ness in an essentialist manner. In an interview with Sight and Sound, Cheung says that "I really appreciate Olivier, because he doesn't want me to pretend I am more Chinese than I really am. I am quite westernized since I have lived in England. I wondered if he had a more 'typical Chinese girl' in mind. And he told me, 'Don't ever do that. Just be you" (Reynaud 26).
   However, in face of her uncertainty, the production crews in Irma Vep do not really know what to make of her, and try to fix her Chinese-ness, romanticize her body in an essentialist manner, and reduce her uncertainty into the realm of attraction. Despite Cheung's international educational background and her transnational acting career in such psychologically complex films as Center Stage, René Vidal, the director of the remake of Les Vampires, fixates on her action roles in her early works in Hong Kong in which she established her image as "Jackie Chang's girl." To prepare for her role of Irma Vep, "Maggie" played by Cheung discusses with the director, René Vidal, his vision of the character.[11] Vidal overtly romanticizes and exoticizes both Musidora and the character of Irma Vep and asks Maggie to be herself. Seeing "Maggie" as an exotic version of Musidora, he says that she is Musidora's equal in "beauty," "mystery," "magic," and "strength." Zoe, a costume designer who is attracted to Maggie, takes Maggie to a sex shop to get her fitted for her costume: a black latex suit. She shows Maggie a clip of Catwoman from Tim Burton's Batman Returns (1992), saying "This is the idea of Irma Vep," which not only manifests the inevitable influence of Hollywood on contemporary French filmmaking in an ironical manner but also reveals her fetish. Zoe clearly has a sexual fantasy towards Maggie and tells her friend that she wants to play with Maggie as if she were a plastic sex toy. As Dale Hudson points out, "[l]ike the 'attractions' of early cinema – of the Lumieres and Melies – the attraction of Maggie is somehow extradiegetic, somehow beyond what the film's narrative can contain" (232).
   The way of seeing Maggie and her body as a spectacle or attraction can be also seen in the scene in which a reporter visits the set to interview Maggie. Questioning her credentials to play the legendary role of Irma Vep, the reporter bombards Maggie with questions about the history of French cinema and John Woo's films, both of which Maggie is not familiar with. ("How do you know about French cinema?" "What do you think about John Woo?") With some confusion, Maggie answers that she has never worked with Woo, explaining that Woo's films are a bit too "masculine" for her. ("I think he's better with men.") Emphasizing how great Woo's "strong" cinema is, the reporter laments that Vidal's works are "boring," self-absorbed and "only for the intellectuals." As the only Asian character in the diegetic world and known as "the actress from Hong Kong," Maggie is treated as a spokesperson for Chinese culture, expected to defend it, and to act as a Chinese more than she really is. However, against the reporter's expectation, Maggie instead chooses to defend Vidal and his work as an equally authentic form of cinematic expression, and in the process she shifts her star persona from one associated with Hong Kong to that of transnational stardom.
As a "cinema of uncertainty" in the age of globalization and also of the crisis of French film industry, Irma Vep "calls attention to the instability of 'French national cinema' as an enunciation of national identity" (Hudson 216). Both at the diegetic and extra-diegetic level, Maggie Cheung, her body, and her ambiguous racial identity functions in the film to evoke anxieties over female body, criminal, and racial others among the viewers, inviting them to reflect on the place of French cinema and on globalization.
Notes
[1] For example, see Hayward and Powrie.
[2]
Some might think that the condition of French film industry is still healthier, at least on paper, when compared to other non-US movie industries. It is surprising that, even today, there are over 900 art-house cinemas around the country, offering alternative space for auteur cinema and non-US foreign films. However, what is important for my argument is the fact that, despite the seemingly-still-healthy statistical figures, the idea of crisis of French cinema is broadly shared by filmmakers, or by the people in general.
[3] On New Hollywood, see Schatz. Also, Jennifer Holt points out that the rapid increase of multiplex cinemas was one of the major effects of the deregulation of the entertainment industry which has taken place since the 1980s. For a detailed explanation, see Holt. On Hollywood's localized marketing strategies in France as well as in other international markets, see Danan, "Marketing Hollywood Blockbuster" and Miller, "Hollywood and the World."
[4] For a more detailed analysis of the changes in the French film industry since the 1980s, see Danan, "From a 'Prenational.'"
[5] The term "the new New Wave (La nouvelle Nouvelle Vague)" came to be used in reference to a group of young French filmmakers and their films which emerged from the mid 1990s. According to Joe Hardwick, the term received first critical attention when Sophie Grassin and Gilles Médioni wrote for L'Expressmagazine an overview of Canne Film Festival in 1995, the same year as the introduction of WTO. For a detailed explanation, see Hardwick.

[6] Of course, I am not arguing here that it is wrong for international film festivals to discover films from peripheral cultures, and to recognize and appreciate cultural differences among them (as local, non-Western new waves). Rather, my point is that the increasing diversity of world cinema and the rapid emergence of local new wave movements since the 1990s have been a function of the capitalist expansion of the film market.
[7] However, at the extradiegetic level, the character of Murano is complicated by the fact that it is played by Lou Castel, a Columbia-born actor.
[8] Callahan also points out that Irma's bodysuit is strongly similar to the one worn by the criminal in Fantomas. Quoting Freud, she notes: "The suit then functions to both reveal and conceal difference and affirms the notion that woman is, as Freud would say, "a creature so like himself" (Zones of Anxiety 40).
[9] The historical continuity between the pre-classical and post-classical modes of cinema and the uncanny return of the repressed have been widely discussed by the group of scholars of so called modernity thesis, including Gunning. My point here is in line with their argument.
[10] However, it would be important to note that the foregrounding of cultural identities in Irma Vep functions to marginalize, if not exclude, the issue of class. Both at the diegetic and extra-diegetic level, Maggie Cheung is presented to us as a new and gendered type of working subject which has emerged in the neoliberal market economy. She is a successful A-class female star who moves across national borders from Hong Kong to Paris to New York for an opportunity to work. The figure of Maggie as a neoliberal working subject makes a contrast with that of Murano whose attachment to the end of welfare state is emphasized by the film. In the first scene he is introduced, Murano says that he is "not working" and his "welfare is running out." His view of Irma Vep is class-based ("She is working-class Paris. She is Arletty! Irma Vep is street thugs and slums!"), but the film severely weakens and makes irrelevant his claim by demonstrating that it is predicated on his racial fears and masculinity ("Why a Chinese girl?" "Le Vampires is not Fu Manchu, right? It's not Fu Manchu.")
[11] Vidal is played by Jean-Pierre Léaud, which emphasizes the film's resonance with New Wave.
Works Cited
Callahan, Vicki. Zones of Anxiety: Movemen, Musidora, and the Crime Serials of Louis Feuillarde. Detroit: Wayne State UniversityPress, 2005.
---. "Screening Musidora: Inscribing Indeterminancy in Film History." Camera Obscura. 16. 3 (2001): 59-81.
Conley, Tom. "Revamping Irma: Immodest Reflections on French Cinema and Globalization." Contemporary French and Francophone Studies. 4.2 (2000): 417-33.
Danan, Martin. "From a 'Prenational' to a 'Postnational' French Cinema." Film History. 8 (1996): 72-84.
---. "Marketing the Hollywood Blockbuster in France." Journal of Popular Film and Television. 12.4 (1995): 131-40.
Frodon, Jean-Michel. "Festivals, Cultural Exceptionalism, and Globalization" in Cahiers du Cinema. 601 (May 2005): 36-38.
Gunning, Tom. "From the opium den to the theatre of morality: Moral discourse and the film process in early American cinema." in The Silent Cinema Reader. Eds. Lee Grieveson and Peter Kremer. Routledge, 2004. 145-55.
Hardwick, Joe. "The New New Wave in French Cinema." Queensland Art Gallery | Gallery of Modern Art (QAGOMA). 5 October, 2007. 3 March, 2012. < http://qagoma.qld.gov.au/cinematheque/cinema_resources/2007/the_new_new_wave_in_french_cinema>
Harris, Kristine. "The New Woman Incident: Cinema, Scandal, and Spectacle in 1935 Shanghai" in Transnational Chinese Cinemas: Identity, Nationhood, Gender. Ed. Lu, Sheldon. Honolulu: University of Hawaii Press, 1997. 277-302.
Harris, Sue. "Spectators 1960-2004: The Decline, Fall and Rebirth in Cinemagoing." In The French Cinema Book. Eds. Michael Temple and Michael Witt. London: British Film Institute, 2004. 256-64.
Hayward, Susan. French National Cinema. New York: Routledge, 1993.
Hudson, Dale. "'Just play yourself, "Maggie Cheung"': Irma Vep, Rethinking Transnational Stardom and Unthinking National Cinemas." Screen. 47.2 (Summer 2006): 213-32.
Holt, Jennifer. "In Deregulation We Trust: The Synergy of Politics and Industry in Reagan Era Hollywood." Film Quarterly. 55.2 (2001): 22-9.
Komatsu, Hiroshi. Kigen No Eiga. Tokyo: Seidosha, 1991.
Miller, Toby. "Hollywood and the World" in The Oxford Guide to Film Studies. Eds. John Hill and Pamela Church Gibson. Oxford Univesity  Press, 1998. 371-81.
Miller, Toby, Nittin Govil, John Mcmurria, Richard Maxwell and Ting Wang. Global Hollywood 2. London: British Film Institute, 2005.
Reynaud, Bérénice. "I Can't Sell My Acting Like That." Sight and Sound. 7.3 (1997): 24-6.
Roberts, Mary Louise. Disruptive Acts: The New Woman in the Fin-de-Siecle France. Chicago: University of Chicago Press, 2002.
Rojas, Carlos. "Specular Failure and Spectral Returns in Two Films with Maggie Cheung (and one without)." Senses of Cinema. 13 Feb. 2001. 3 Mar. 2008. <http://archive.sensesofcinem a.com/contents/01/12/cheung.html>.
Rosenbaum, Jonathan. "Life Intimidates Art [Irma Vep]" Chicago Reader. 13 Jun. 1997.
Schatz, Thomas. "The New Hollywood" in Film Theory Goes to the Movies. Eds. Jim Collins, Hilary Radner, and Ava Preacher Collins. Routledge, 1993. 8-36.
Stringer, Julian. "Global Cities and the International Film Festival Economy" in Cinema and the City: Film and Urban Societies in a Global Context. Ed. Shiel, Mark and Tony Fitzmaurice. Blackwell Publishers Ltd, 2001. 134-144.